LynX Monitor [CNC Nirvana]
Proactively monitor your entire JDE ecosystem.
Free yourself from mundane CNC tasks.
---
---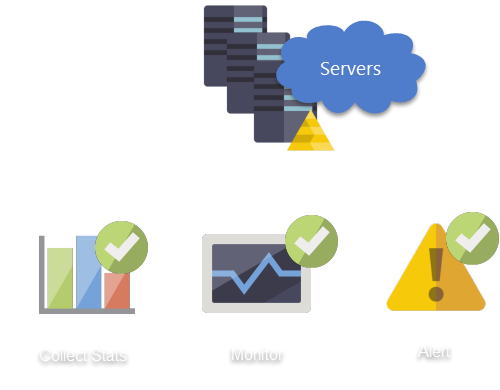 Ensure Uptime & Stability
---
LynX Monitor is the CNC Administrator's best friend. It monitors your JDE system not just from a technical standpoint, but also from a business standpoint.
LynX Monitor does the grunt work, enabling you to respond to many issues before the users complain about them.
Download a free trial from our Store now!
---
---
---
---
System Features
---
Web Console

Configure the system through a user friendly web console.

Single Instance

Monitor multiple servers, multiple releases from a single LynX Monitor instance.

Agentless

No agents to install on any server!

Alerts

Alerts can be emailed and/or logged to the Windows Event Log.
---
---
Monitoring Features
---
Monitor Type

What does it monitor?

Applies To

Ping

Checks if a computer or device can be reached by pinging it. Alerts are sent when:

The server cannot be pinged
The server cannot be pinged within a specified timeout
The server is pinged after a failed attempt

Port

Checks if a port is reachable on a computer or device. Use this monitor to check if E1 ports on your Enterprise, HTML or Server Manager servers can be accessed. Alerts are sent out when:

The specified port cannot be opened
The specified port cannot be opened within a timeout
The specified port is opened after a failed attempt

Database Connectivity

Checks if a database connection can be opened. Alerts are sent out when:

The database is not reachable
The database cannot be opened within a specified timeout
The database connection is opened after a failed attempt
A database query does not execute within a specified timeout

Diskspace

Checks if disk space has exceeded the configured threshold. Alerts are sent out when:

The disk space has exceeded the threshold (% or MB), subject to a sustenance interval.
The disk space is normal after having exceeded the threshold.

Memory

Checks if the total memory on the server has exceeded the configured threshold. Alerts are sent out when:

The memory has exceeded the threshold (% or MB), subject to a sustenance interval.
The memory is normal after having exceeded the threshold.

CPU

Checks if the total CPU of the server has exceeded the configured threshold. Alerts are sent out when:

The CPU has exceeded the threshold (% or MB), subject to a sustenance interval.
The CPU is normal after having exceeded the threshold.

Proces Memory

Checks if the memory consumed by a process has exceeded the configured threshold. Alerts are sent out when:

The process memory has exceeded the threshold, subject to a sustenance interval.
The process memory is normal after having exceeded the threshold.

Proces CPU

Checks if the CPU consumed by a process has exceeded the configured threshold. Alerts are sent out when:

The process CPU has exceeded the threshold, subject to a sustenance interval.
The process CPU is normal after having exceeded the threshold.

Report

Monitors the processing of reports on E1 report servers. Report thresholds can be set by report and version. Alerts are sent out when:

A report has been waiting beyond a configured threshold
A report has been processing beyond a configured threshold
A report ends in error

Queue

Monitors queues on E1 report servers. Queue thresholds are set by queue name. Alerts are sent out when:

The number of waiting jobs in a queue exceeds the configured threshold consistently over a time period

The monitor can also be configured to re-prioritize jobs if one user submits too many jobs within a short time.

Kernel (Native)

Checks if kernels are running. This is configured by kernel type. Alerts are sent out when:

A kernel type is not running
A kernel type is out of range
A kernel type is back in the configured range

Scheduler Server

Checks if the E1 scheduler server is functioning properly. Alerts are sent out when:

The scheduler status is down
The scheduler's is behind schedule
The scheduler recovers after being down

Scheduled Report

Checks if your critical scheduled reports are running as expected. Alerts are sent out when:

The scheduled report was not submitted by the scheduler
The scheduled report did not start by a certain time
The scheduled report did not complete by a certain time

Subsystem

Checks if subsystem jobs are processing. Alerts are sent out when:

The subsystem report is not running
The number of unprocessed jobs exceeded the thresshold

Web App

Monitors any web application, including E1. The monitor can be configured to send out screenshots of the browser along with the alerts. Alerts are sent out when:

The Web URL did not launch
Login to the Web app fails
A web task did not complete
A web task did not complete within a timeout
All web tasks completed successfully (after a previous failure)

E1 HTML Servers
Any Web Server

File / Log

Monitors any folder for files and the contents of the file for keywords. Keywords may include regular expressions and wild cards. Alerts are sent out when:

A keyword was located in a file

In addition, it can also perform the following tasks:

Clean up files older than a given date. This frees you from manually cleaning up folders that accumulate logs
Archive logs locally on the monitor server and optionally clean up the archive as well

SM Console, Home, Instance

Checks if the Server Manager Console, Home and Instances are up. Alerts are sent out when:

The Server Manager entity is down
The Server Manager entity is up after a previous failure

Enterprise Server

Monitors Enterprise Servers defined in Server Manager. You can set thresholds on:

Network Jobs (range)
Kernel Jobs (range)
Security Users
Call Object Users
CPU with sustenance
Memory with sustenance

Enterprise Server Process

Monitors kernels of Enterprise Servers defined in Server Manager. You can set thresholds on:

JDE Log Size
Users
Memory with sustenacnce
CPU with sustenance

Enterprise Server Disk

Monitors disk usage of Enterprise Servers defined in Server Manager. You can set thresholds on:

Free space (MB)
Free space (%)

Enterprise Server Kernel Range

Monitors kernel range Enterprise Servers defined in Server Manager. Alerts are created when:

# of Kernels of a type is out of range.
# of Kernels of a type is back in range.

HTML Server

Monitors HTML Servers defined in Server Manager. You can set thresholds on:

Active users with sustenance
Heap, Comitted and Actual Memory with sustenance
User disabled status

E1 Html Servers
E1 BSSV Servers
E1 AIS Servers

AIS Server

Logins to AIS Server and opens forms. You can set thresholds on:

Time taken to login and open forms, with sustenance

Call Object

Monitors call object stats of HTML Servers defined in Server Manager. You can set thresholds on:

Application Errors
Timeout Errors
System Errors
Exeuction Time

Command

Runs a command and monitors its exit code. Exit codes can be tied to meaningful descriptions. Use this feature to monitor just about anything! Alerts are sent out when:

The command fails
The command succeeds after a previous failure

Event Log

Monitors event logs on Windows computers. Alerts are sent out when:

An event that meets the configured criteria (level, source, event id and/or keyword) is logged
---